Education Excellence Award 2022
We feel so proud to represent our esteemed School in such an exquisite platform. The warm feeling of being the bonafide representative in the 'Innovation in Pedagogical Practices' fills our heart with immense gratitude. Each and every milestone of this journey is truly invaluable and close to our hearts. We're so honoured to receive this special honour by Universal Mentors Association with Brain Wonders, NABET(QCI) as knowledge partner and being on the spectacular platform of 4th EduLeaders Summit 2022. We're totally spellbound by the glorious celebration of education and innovation in such an exquisite platform and moreover, giving us a golden opportunity to be a part of this Gala event..... Read More

We feel extremely revered to be a part of this beautiful journey to the pathway of an excellent education.We have made such a learning environment that the ambience of our learning place is vibrant and a safe haven for each kid. The interactive and quality education is our prime goal and we ensure that we achieve this amazing dream of the World class education.
We put an emphasis on the wellbeing of each child, our revered teachers and our impeccable staff - we leave no stone unturned to motivate and work together as a grand team. Moreover, we strive to achieve even more growth on this enthralling journey of contemporary education. Our flexible approach and a room for learning is a pure bliss and motivates us to grow even more. The curriculum is inclusive to children with special needs as well. We focus on the Research based competent, collaborative, integrative, reflective and inquiry based education with Montessori approach for the learning system. We promote collective responsibility among teachers to encourage each one of them to rise in their glory, extensive collaborations, encouraging Innovative teaching patterns, technology advancement and innovation Pedagogical practices. The thing that sets us apart from our contemporary ones is our commitment to the Growth with sheer dedication and utter faith in the harnessing of human potential. Adding more to the education sphere, we are also committed to provide children a platform to nurture their budding personalities, social skills, motor skills, emotional quotient and IQ as a whole. As the head of the school, the prime goal is to make everyone reach their potential - as every child is different and unique on it's own. There are no two people who function the same way, hence our education curriculum is mould in such a way that it provides a safe ground for diverse individuals to reach their maximum potential with love and care. We don't believe in pushing kids through the way, instead we believe in nurturing them, giving a safe environment for their development and using positive encouragement methods to achieve the major goal of excellence. We've achieved so much, witnessed a tremendous growth from a seed to a huge tree. Adding more to our beautiful transformation, we have never forget our roots- the basis of our existence. We have embedded moral values in such a playful way that enhances the learning factor, it builds a strong foundation of a bright future.
Through the amalgamation of inclusive learning environment and exclusive learning methods, we aspire to embark on the journey of becoming the Future of Education sector. Once again, we're extremely humbled by this honour. And yes!! Three cheers for MadeEasy !!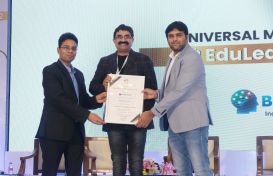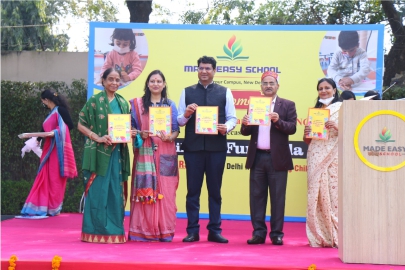 Many firsts at children's skill-building event. (Fox Interviewer: 01-March-2022)
New Delhi: On 26 February 2022, MADE EASY SCHOOL, Chhatarpur organized a "Skill and Fun Mela" for 3 to 8-year-old children. As the Chief Guest, Prof. Dinesh Prasad Saklani, Director of the National Council of Educational Research and Training (NCERT), inaugurated these efforts towards empowering kids with relevant, age-appropriate skills. The Chairman and Managing Director of the MADE EASY Group, Mr B. Singh, and the Managing Director of the MADE EASY Group, Mrs Jyoti Singh, presided over the event, which also witnessed the release of A Handbook on Skill Development for Primary School Students. Eminent educationist Mrs Lata Vaidyanathan was the Guest of Honour...Read More

Education World First Prize in Delhi NCR conferred to MADE EASY SCHOOL for Campus Design Excellence
"An excellent infrastructure with good spaces makes learning a joyful experience for the children" Proud to celebrate this accomplishment of winning first prize in "Campus Design Excellence.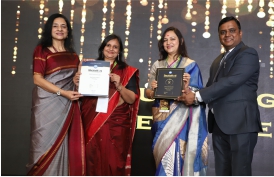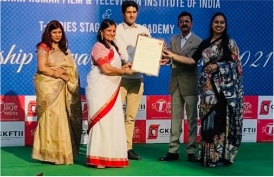 Leadership Award in Education 2021
"Leadership is not about titles, positions or flow charts. It is about one life influencing other"
We salute the hard work, dedication and devotion of MADE EASY MANAGEMENT team to navigate brilliantly through pandemic times with tools of digital technology.
We are extremely delighted to share this moment of great joy of winning "Leadership Award in Education 2021" with you all.
Excellence in Integrated Experiential Learning Programs 2019
MADE EASY SCHOOL was bestowed with The Eldrok India Award for "Excellence in Integrated Experiential Learning Programs 2019".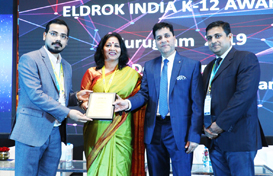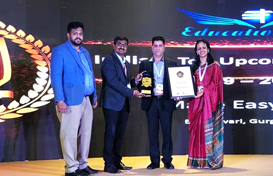 Best Upcoming CBSE School 2019
MADE EASY SCHOOL, Bandhwari Gurugram was awarded as "Best Upcoming CBSE School"in India School Merit Awards 2019-20.
Times Education National Awards 2018-2019
MADE EASY SCHOOL wall was embellished with "EDUCATION ICONS - NORTH Award 2018-2019" in the Times Education National Awards.