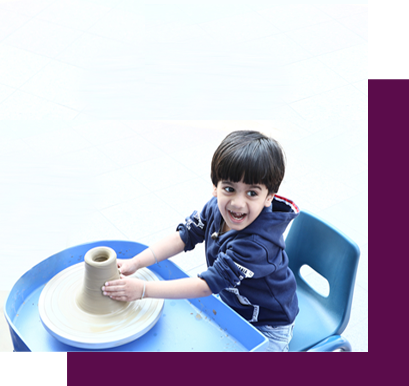 Our vibrant Kindergarten programme after class Nursery is one of the major contributors in the successful transformation of child.As it is the phase during which the child starts to explore the world around themselves.Our Kindergarten programmes helps the children develop all the necessary attributes that are required to succeed in the actual world of academics i.e. self-confidence,creativity,learning and practical skills that would assist the young toddles in reading,learning,writing or play with numbers.The major aim of kindergarten is to help the students in a smooth transition from the play school to the actual world of acadamics.
Hence laying a strong and concrete foundation for the years to come and ensuring that the students are able to cross every hurdle that comes their way.And is able to succeed in every phase of learning.
Features of our Kindergarten Programme :
Development of Self Esteem Confidence.
Bridging the individuals gaps through timely identification of the requirements.
Highly trained early age educators.
Learning with fun.
Well-equipped classrooms with latest technology.