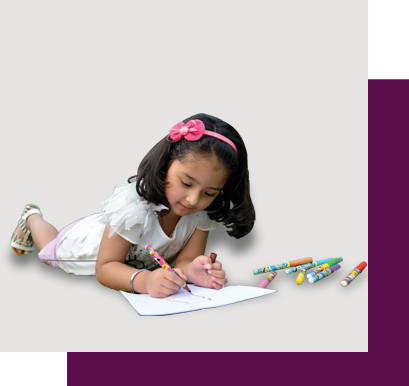 Pre-Nursery can be considered as a first step of learning towards formal education.Through a chain of well developed and strategized programs.
Be it listening to teacher reading out stories aloud,solving puzzles or be it drawing and painting.Each child has his/her own development needs.We believe in the fact that a child's play is child's work and when the children's are allowed to select the type of play it contributes to the developmental needs of the children's.
Also allowing the chilgren's experiment with sorting,grouping and arranging with the amalgamation of lots of Montessori activities help the children's boost their confidence.
Pre-Nursery program aims to identify the strengths and area of development amongst the young learners.So that emphasis can be laid on the same and the students can be encouraged by the teachers to ensure proper learning and growth.
Features of our Pre-Nursery Programme :
Fun-filled teaching.
Development of social skills as children's learn to interact with each other.
Exposure to mathematics and language skills.
Offers kick start to learning.
Amalgamation of Montessori activities help build confidence.
Emphasis laid on each child to ensure proper exposure to learning environment.
Hi-tech teaching methodology to help children's gain an edge over others.