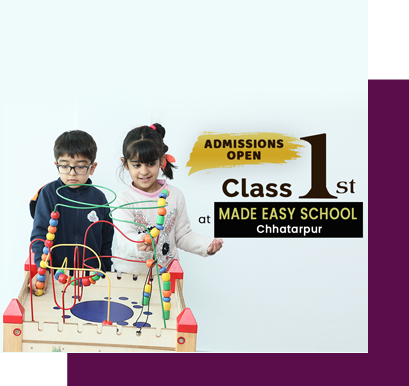 After finishing the Pre-school, the first step of child in the actual world of primary education begins with Class 1st. It is in Class 1st that children's start to learn the actual fundamental skills in reading, writing and mathematics through specially designed curriculum so that a strong foundation is laid for the actual world of secondary education.
From learning to recite passages and poems to the actual world of addition, subtraction, multiplication and division. It is in this class that child starts to get exposure to the actual world of academics. We at MADE EASY SCHOOL along with ensuring the excellent academic growth also believe that, only excellence in academics will not make you ready to reach the actual goal. So along with academics we have incorporated Visual Arts, Performing arts and physical education in the curriculum as well. So that we can lead to the overall development of the new academic beginners mentally and physically both.
Features of our Class 1st Programme :
Emphasis on Academics and Co-Academics both.
Identifying Individual learning patterns and creating appropriate growth plans.
Highly Qualified and Trained Teachers/Educators.
State of the ART Teaching Methodologies.
Academic Progress with overall Development.